W,
Well thank you for the pick-me-up (post-me-up?), you fabulous Domestic Partner you. As easily as you scandalize me – still! After all these years! – I have to say that creating a menu via Naked Twister is rather genius. I think you need to patent that.
Your kind words are the icing on the wedding cake, as I am feeling waaaaaaay better than I was the other day. And I'm sure it has nothing to do with the candid heart-to-heart convo the BF and I had about money and the wedding and EVERYTHING to do with Lauren "Devil Wears Prada" Weisberger's fabulous new novel, released just in time for summer:
Chasing Harry Winston
.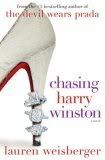 And yes, I had to include both the US and UK covers (I read the
UK version
) because aren't they too fabulous for words? How can you not drool over that bling and those stilettos?
Anyway, reading
this book
at this point in my life was like a shot of Nutella to the heart – invigorating, comforting, satiating. The book oozes fabulosity and girliness, but I think you might even like it! Seriously! Because these girls have issues! Like, realistic ones. And they deal with them, but not without a little pain along the way to the happy but not wholly predictable ending. I don't want to drop any spoilers, so I won't say much more except – sigh. Yes, that was the mellowed, happy sigh of someone who's just delighting in being a girl again, instead of stressing at every twist and turn.
Not to mention that all this talk of jewelry has me hankering for a trip to Hatton Garden, London's Diamond District – or, as these oft-tending-towards-verbose Brits call it,
London's Jewelry Quarter and UK Diamond Centre
. You know, just to browse. And the BF even approves! He says he needs more input (read: decisiveness) regarding my Ring of Dreams, so I will be making a trip ASAP. Stay tuned… I know you'll have your barf bucket in hand, but just try to appreciate this for the educational value, won't you?
Ever yours,
DG