Hello Non-Honeymoonin' Sue!
Palau is hot. The Lawyer and I have been thinking about our honeymoon but have not been able to even really narrow down our list - there is too much to see! However I have decided that, wherever we go, we will end our honeymoon in Munich for Oktoberfest. I mean obv I will not miss the perfect chance to spend a little more time with my ancestors... remember these dudes?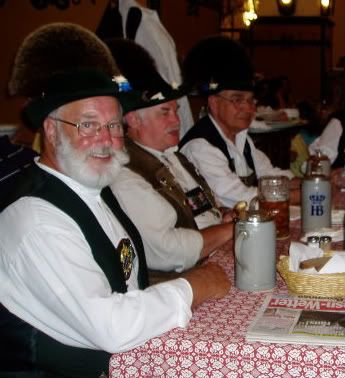 If they don't ooze "romantic honeymoon" I don't know who does!
Though frankly the thought of drinking lots of beer makes me feel a little ill right now, because I am still recovering from my session with Colossus yesterday. During which I puked my guts out (if you will recall from
my tweet
).
Now if I do recall, you recently made a friend of yours honk, correct? Ahem, if I may quote you directly from
your
tweet: "Sue went to the gym with her friend, Kat, and put her through Sue's strength training routine. Kat threw up. Poor Kat. Mean Sue."
All this exercise-induced hurling as got me thinking. Are we going too far? Pushing ourselves too hard? How hard is too hard? (MIND OUT OF THE GUTTER, SUE! I MEAN FIGURATIVELY HARD!)
Granted, I probably should not have eaten a full breakfast of eggs, bacon, and sausage yesterday a mere few hours before my workout. And it was the first real workout I'd done with Colossus in awhile, and he basically put me through a death circuit. But still. I am not thrilled to have honked.
Sue, what are your thoughts on workout-related vomit? 
Gals in the blogosphere, have you ever been pushed to these ridiculous limits? Or are Sue and I just insane?
Off to drink some more tummy-calming tea...
xoxo,
DomestiGal Jen