Greetings, dearest Sue, from my new home!
Ah yes. Dorm Sweet Dorm.
I have now been in my new dorm room for a week, and fortunately my domestic goddessness has inspired me to make it as homey as I possibly can, considering the stained carpet, mildewy bathroom, and very white walls that we are, alas, not allowed to decorate (though I think I could get away with those cute vinyl wall decals everyone has these days - Gals in the blogosphere, any suggestions?).
So, wanna see where I live? (You know you do.) Here I am:
No, not in the church. That's the belltower that wakes me up every morning. The chalet-looking structure beneath it is my dorm. Picturesque, eh?
So, you know, it's fine. I mean, being away from The Lawyer absolutely completely totally sucks. But at the same time I know this is an important year for me, and I am determined to get as much as I can out of this program and out of my life here.
The Lawyer, for his part, has been A to the Mazing throughout all of this. He gave me a bunch of dormwarming presents, including some college paraphernalia (you know I heart paraphernalia); bridal mags for bedside reading (YES! He went out and bought me bridal mags! That is right up there with buying tampons! I am a lucky girl.); two beautiful orchids - my fave flower; and some champagne. But! The best, most amazing gift he got me is... well, see for yourself: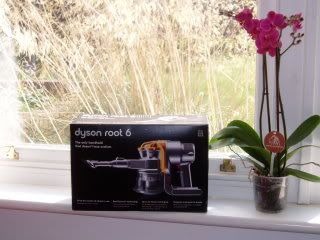 Aw yeah dawg! That there is a hand-held DYSON, baby! I mean does The Lawyer know me or what?
Now that I have a Dyson, this place truly feels like home.
(Just don't get me started on how gross it is sharing a kitchen with grad students...)
Ew.
LOVE!
DomestiGrad Jen