Sue,
I am embarrassed to admit this. I cannot even believe I have forgotten to tell you.
So The Lawyer and I have been working out with our trainer, Colossus, twice a week for about three months now. Have I mentioned I can now dead-lift
one hundred and forty three
pounds?! Hot, right?
Anyway, so we are both totally smitten with our trainer - not only has he transformed our bods, but he is just a great guy - and last week before our session, The Lawyer and I went on a very special shopping trip... because Colossus is having a baby! 
Yes, that's right. His girlfriend is about to pop out the Colossal Spawn. A baby boy, which is obviously just perfect. A little mini weightlifting machine! They just picked out a name, which I will keep from the blogosphere but let me just say it is a total gladiator name, which is genius. I seriously cannot wait to meet this little dude.
Plus, the Colossal Spawn gave us (me) the perfect excuse to shop at my FAVE store here in the UK,
Cath Kidston
. Wanna see what we got him? Prepare for your biological clock to be assaulted: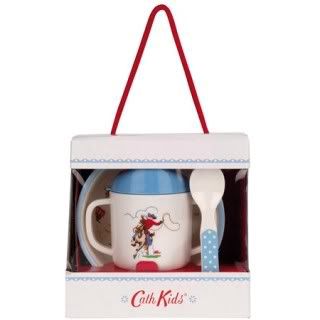 It's a little cowboy dining set! Complete with sippy cup, spoon, and bowl with a suction cup to keep it on the table. We thought the cowboy theme was unabashedly American, perfect for our gift to Colossus and Spawn. (Plus, they didn't have a Gladiator/Barbarian pattern - cowboys are as macho as Cath gets.) Apparently the little (big) guy already has a closet full of clothes, so we wanted to get them something useful. 
Except, we couldn't resist this:
Yes, those are cowboys and covered wagons. I mean. Do you love it or do you LOVE it? 
All I can say is, I hope Cath is still making this pattern when I'm preggo with a boy. Sigh. Until then, at least we have the Colossal Spawn to spoil.
Ok, must go tame the biological clock.
xoxo,
DG