To Sue and all my ladies in DomestiGal Land... a plea from across the pond:
WATCH THIS TONIGHT!
Stand Up To Cancer. Tonight at 8pm (ET/PT) and 7pm (CT) on ABC, CBS, and NBC.
That's right! Three networks simultaneously! But it's not a State of the Union! In fact, Bush won't even be there! Woohoo!
I'm sure you've heard about it. And frankly I am going through mayjah withdrawal over here not seeing all the press because - to get serious for a second - cancer advocacy is a great passion of mine (second to planning my wedding, obv). This TV special and the
incredible website
that has been built to promote it have the potential to make a HUGE impact on this cause. 
Here
are some great ways *YOU* can promote SU2C on your blog, in your email, on your Facebook page, wherever! Easy peasy and impactful. Awesome.
There are also some fab items to buy
here
. I am drooling over Jennifer Meyer's star necklace... though perhaps that's partly because she gets to snuggle with Tobey Maguire every night. Lucky gal. I
did
buy myself
this totebag: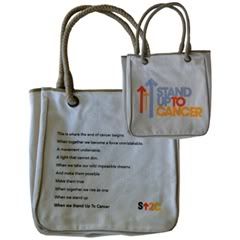 ... and have been carrying it to all my Colossal workout sessions. Not only does the bag feature my favorite color (orange) but I felt good spending (The Lawyer's) money on a very good, very urgent, very important cause.
[Dude. Su2C should be paying me for promotions like this! Though then I would just donate the money back. But still.]
Gals! If you decide to promote this fabulous and important and groundbreaking program, please let us know! I'd love to hear your thoughts.
And finally, because I can't resist... for those of you who may wonder, from time to time, what Sue and Yours Truly look like in person, you will find me - for real - in here:
Who am I? That's top secret, I'll never tell.
You know you love me.
AND PLEASE TUNE INTO SU2C TONIGHT!
XOXO,
DomestiGirl Jen