Sue,
I know you know I am quite the fashionista. Need I mention again that
my super-fabulous-anniversary-gift bag was carried by Georgina on
Gossip Girl
? Last week was thus a gleeful one, as I spent (too many) hours a day combing through slideshows from New York Fashion Week. Every NYFW, my friend Sharon and I send each other an album of our faves every day, and at the end of the week we send each other a "Best Of" album. Though frankly this season was such a fugfest that we are also creating "Worst Of" albums to exchange.
But back to the fabulous.
I am thrilled (as thrilled as my mom's bank account is grief-stricken) to announce that I have found
all
my wedding outfits! In my dreams anyway.
BEHOLD!
For my rehearsal:
Nanette Lepore
is a go-to for feminine, figure-flattering dresses. I love how comfy this dress looks. Plus, the straplessness will help me acclimate (I hardly ever go strapless but will for my wedding day!) and I love the flecks of orange.
For my rehearsal dinner: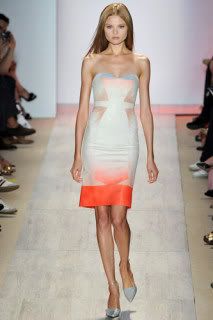 Yessssss! Thank you, 
Hervé Léger
, for creating an uberhot dress in my wedding color palette! Or at least the palette that is the front-runner for now: orange and pewter. Hot hot hot. Being able to rock a dress like this would make all my Colossal Ass-Handings more than worth it!
My Wedding Dress of Dreams:
Just kidding. Obv. But really, 
Betsey Johnson
? Why? Why do you make a farce of my sacred Fashion Week? I do not understand you, and I am beginning to resent you. Not to mention that your show this season included pirates. I know you're quirky but come ON, lady!
Ok so here is My Wedding Dress of Dreams For Real:
Ah yes, Luca Luca. You are the hotness. The class. The fabulosity. The gorgeosity. I would do very bad things for this dress. 
And finally, for my wedding post-party:
An unconventional choice for me, to be sure, but I love this dress by
Derek Lam
. It looks super comfy and it sparkles. Perfect to party on after an evening of eating, drinking, and dancing with my new hubby (!!!). Need I say more? 
A girl can dream.
Yours in imagined couture,
Domestic Goddess Jen